After overcoming a host of complex property issues, new owners reopen historic inn.
A river, an old travelers' inn, complicated property lines and ownership issues. Throw in a few floods and a recent fire and it's no surprise that this real estate transfer required a boat load of property law expertise, creative problem-solving, clever negotiating skills and just plain persistence.
The result: This spring the landmark Indian Rock Inn in Upper Black Eddy, founded in 1812 and carrying a variety of names in its long history, reopened as The Narrows. It's already attracting diners from around the area to sample its "New American" cuisine and get a glimpse of its renovated interior. Perhaps the happiest outcome for locals who've always loved the location is knowing that the old inn perched next to the rocky hillside along this picturesque and semi-wild section of the Delaware River is once again serving guests.
But it almost didn't happen.
A fire on March 10, 2015, seriously damaged the inn, forcing it to close and ultimately putting its owners, Tom and Beverly Schweder, in a financial bind.
"The big problem," explains Gavin Laboski, who handled the legal and real estate tangle, "is that the mortgage on the property that forced the original sheriff's sale was on only part of the property. So only a portion of it, what I'll call Lot A, changed hands in that transaction."
The rest of the inn property, used for many years as parking for inn patrons, was a separately owned but adjacent parcel that was actually part of a much larger tract that straddles a stream and two townships: Nockamixon, where the inn itself sits, and Bridgeton, across the stream. A subdivision in the Schweders' time allowed them to purchase the new parcel, Lot B.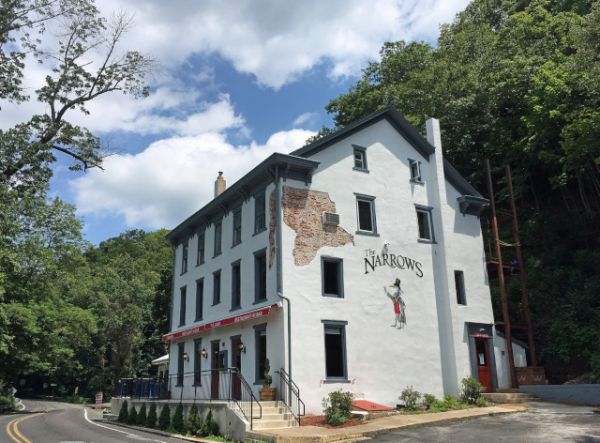 When Gavin's clients, Anthony Capone and James Vipond, came on the scene, the inn was owned by one party, the parking lot by another, and a liquor license under another name was held by the Commonwealth.
"On our clients' behalf, we negotiated to pay back taxes and liens in exchange for the liquor license and title to the parking lot. We then merged the two properties into one parcel, helped Anthony & Jamie obtain Small Business Administration financing, and all's right with the world."
The Narrows is worth a visit for a special dinner or lunch. Make sure to try the amazing Lemon Ricotta Doughnuts, which earned the chef his post.
Call ahead for hours and seating: 484.309.4449
2206 River Rd, Upper Black Eddy, PA 18972